Search Engine Optimization has become one of the most beneficial and crucial digital marketing methods that have the potential to make your brand compete and beat large brands in your industry. Today every good business is looking to hire an SEO agency Canada and web development company that can build an SEO optimized website for their business.
Today digital marketing agencies are using top SEO tools that derive result-oriented SEO services. So here is why you should hire a digital marketing agency that uses the right SEO tools, and what are these tools?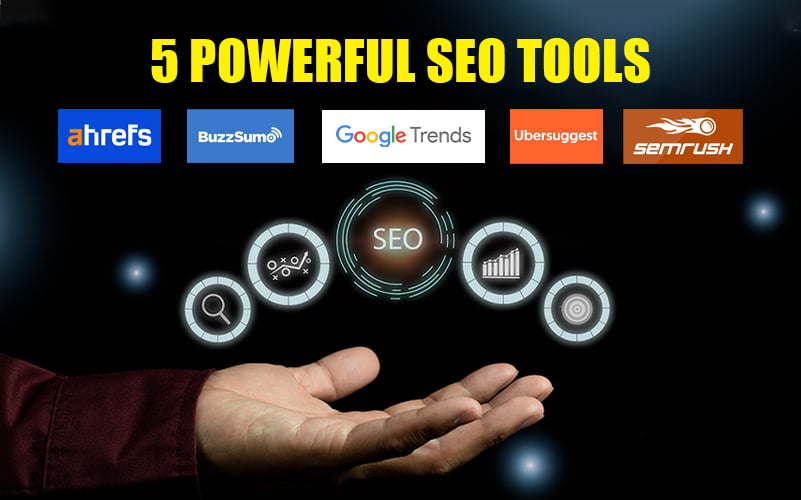 Upgrade Your Marketing With The Best And Right SEO Tools!
If you want to be fast forward in online marketing you need to work smarter with the right SEO tools. It is indeed a necessity for a website's success. One of the main reasons for using tools is to speed up the SEO process. As machines are always better and faster than us, so use them and get benefitted from them. There are many things you need to research and compare before you plan out your SEO strategy. And all these can be perfectly done with SEO tools. SEO has the biggest power of uplifting your brand, this isn't something you can ignore.
Before Using Any SEO Tool You Need To Get an Answer To This Basic Question!
Does the implementation of this tool improve your chances of getting higher rankings? If yes, then go for it. well, all of you heard of the word google right and what makes you rank on Google or on other search engines is the SEO tools. If you want to be a successful SEO agency and digital marketing agency, SEO is an essential tool for your success.
Let us go with 5 powerful SEO tools that drive your SEO Agency and digital marketing journey with huge SEO success. Make sure that you have all these SEO tools with you from day one!
Ahrefs
You don't have to be SEO Pro if you have Ahrefs in your team!
Ahrefs is one of the best SEO tools that provide high-quality data Analytics to its users. From the upgraded keyword Explorer to an in-depth comparison of domains, this tool will steer your way to reach your high rankings on search engines. Using this tool is a great choice for a web development company or SEO agency. Ahrefs SEO tool gives you a lot of great features with its easiest navigation. It's excellent keyword research that can be beneficial for you to rank among your competitors. This tool is designed in a way that users will easily get to it and take a lot of information from it within just a few minutes.
Buzzsumo
An excellent tool to discover content insights and uncover the user's most shared content.
BuzzSumo is a great SEO tool that boosts the social media side of a digital marketing agency. This platform provides you with great help in identifying the industry trends, influencers, and shared content so that you can interpret your data easily. BuzzSumo is worth a look if you are active on social media and social media is a part of your strategy. It gives you amazing features such as a content analyzer, competitor research, and media monitoring. This comes with the option of monthly and annual plans with discounts. Also, you can access its 7-day free trial. It is good for every type of business whether it's medium or large.
Google trends
Explore the top hot topics and trends of the market with just a few clicks!
Google trends give you a competitive edge with its power to discover world-level trends. It is a valuable SEO tool for everyone whether it's a web development company or SEO agency. It conducts free keyword research, discovers related topics and targets by location. If you are going to choose the best SEO Tool Google trend data is an excellent choice to go beyond your basic search. Google trends also provide great help in your on-page SEO.
Ubersuggest
Want more traffic and high rankings? Ubersuggest is the best medium to achieve it.
It is an All-in-One SEO tool package that provides you with competitor SEO, keyword suggestions, top trends, and content. This is the platform that gives you the information in the form of a list of keywords your business is currently ranking for. Its organic keywords are amazing and its monthly organic traffic is incredible. Moreover, you will get to know about your organic keyword research and the number of incoming website links. This tool explores the growth opportunities for you in the SEO world. Once you use this tool, you can expect a lot of visitors to come to your website.
SEMRush
Every digital marketing company's choice in getting leading online visibility.
You can ask any digital marketer about SEMRush whether they are using it or not and the response will be definitely yes. Essay on rose is a powerful tool that enhances your online visibility. It is an essential part of every digital marketing company and SEO agency's online marketing strategy. The software gives you a number of Amazing features including keyword research, backlink analysis insight audits that improve your user SEO rankings and provides a great help in SEO audit. SEMRush has a keyboard magic tool along with in-depth competitor analysis. This tool is best for small, medium to large Companies depending upon the needs.
Conclusion
Well, when it comes to a digital marketing agency, web development company, Or SEO agency. You need to use the right and powerful SEO tools for your websites on the top of the search engines. With these powerful tools, you can implement a sound SEO strategy. These tools provide great help in your online marketing. Add these tools into your strategy, Implement it and reach your SEO-related goals in real-time.
Want more traffic and high rankings? Cyberframe shows you the way to win the game of SEO. We are experts at using the best SEO tools that drive maximum success in real-time as digital marketing is our expertise!
Also Read